Lawyers Holding Diplomas From Rwanda are Not Eligible for Enrolment in Uganda – High Court Rules
In a High Court decision delivered on the 13th May 2020 (yesterday), Justice Esta Nambayo upheld the decision of Law Council (a body regulating legal practice in Uganda) which found that that the Applicant also a Ugandan lawyer, Andrew Bataamwe who acquired a Diploma in Legal Practice from the Institute of Legal Practice and Development in Rwanda is not eligible to be enrolled as an advocate of the High Court of Uganda and the courts subordinate.
According to the decision, Bataamwe completed university from Islamic University in Uganda (IUIU), and joined Rwanda where he completed his Diploma in Legal Practice in August 2019. He subsequently wrote a letter to Law Council to ascertain whether or not he was eligible to be enrolled. Unfortunately for him, his papers were not found to be sufficient.
He then dragged the regulating body to court via a judicial review application, where he sought that the court review the decision of the Law Council, a public body exercising quasi judicia functions, such that court would find that decision denying his eligibility, to be illegal.
The Applicant derived his confidence to submit the letter and apply for enrolment from a lawyer, Katungi Tony, whom he thought was faced with a similar situation as he found himself in. Katungi sued law council in 2017 challenging a similar decision by the body denying him eligibility for enrolment and court ruled in his favour. Katungi had acquired his Diploma from Kenya.
Unfortunately for Bataamwe, the decision of Katungi, as court ruled in his case, was only applicable to Ugandan graduates who acquired their post graduate diploma from a common law jurisdiction, like Kenya is.
"Rwanda where the Applicant obtained his Post Graduate Diploma in Legal Practice is not a common law jurisdiction. The Katungi case recognised the fact that Kenya, like Uganda was a common law jurisdiction". Court then found that there was "no irregularity, no illegality or procedural impropriety" by Law Council in the decision it made regarding eligibility of Bataamwe.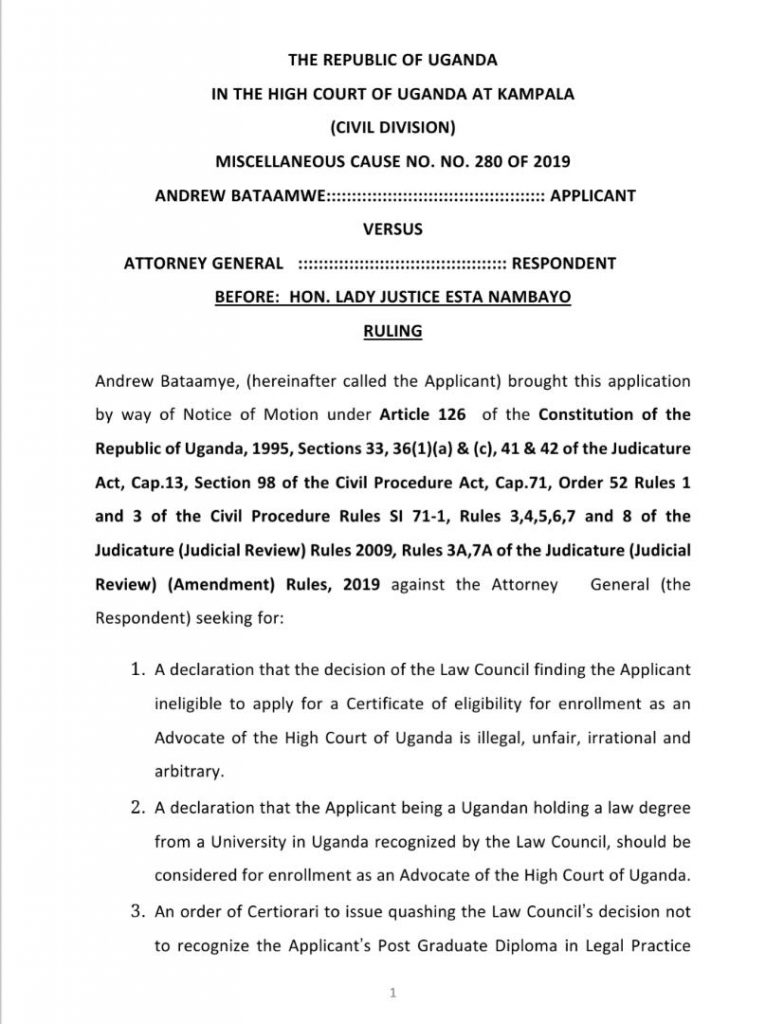 Read from the Source: here
1112