Agatha to strengthen into a hurricane before striking Mexico
AccuWeather meteorologists expect Agatha to make landfall as a Category 2 hurricane (maximum sustained winds of 96-110 mph, or 154-177 km/h) Monday evening along the southern coast of Mexico in the state of Oaxaca. Landfall at Category 2 or higher intensity, would be the strongest May hurricane to ever make landfall in the eastern Pacific basin.​​​​​​​
AccuWeather Hurricane Center – May 29, 2022 – An area of disturbed weather that AccuWeather meteorologists were closely scrutinizing all week over the waters south of Mexico became the first named storm of the 2022 East Pacific hurricane season — Agatha — early Saturday morning. Although Agatha is a still a tropical storm, forecasters expect the storm to strengthen to a hurricane as it turns toward the Mexican coast into early week.
Within six hours of being designated Tropical Depression One-E by the National Hurricane Center late Friday, Tropical Storm Agatha formed early Saturday morning amid a cluster of showers and thunderstorms in the East Pacific. Winds within the center of the storm stood at 70 mph (113 km/h) at 4 a.m. CDT Sunday.
People in Agatha's eye path should check the AccuWeather Hurricane Tracker in their app or online to follow start and end times, understand vital forecasted impact details for their location such as peak winds, total rainfall, rainfall amount probability graphs, hourly wind and rainfall charts and impact maps. If the immediate location in view will not be threatened by a hurricane, a list of impacted cities will be made available to raise awareness of what locations are at risk.
Agatha could be seen swirling south of Mexico on this GOES-East satellite imagery from Saturday afternoon, May 28, 2022. (CIRA/RAMMB)
Forecasters say the system will remain in an environment conducive for continued strengthening up until it moves onshore in Mexico. By Sunday morning or early afternoon, Agatha is forecast to reach Category 1 hurricane strength (maximum sustained winds of 74-95 mph, or 119-153 km/h).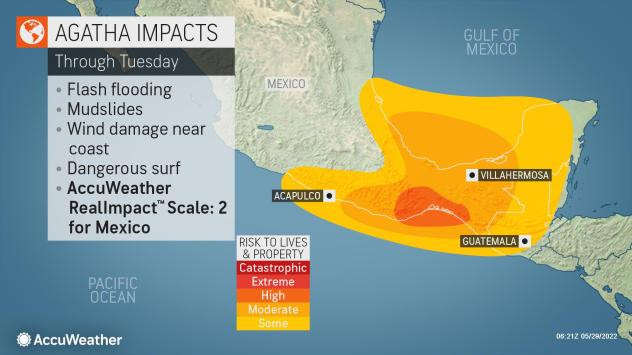 Sea-surface temperatures in the area are more than sufficient for continued strengthening, and as of Saturday, the ocean water in this part of the Pacific Ocean was around 86 degrees Fahrenheit (30 degrees Celsius). At a minimum, a sea-surface temperature of 79-80 F (26-27 C) is needed for the formation and maintenance of tropical systems. In addition, wind shear in the area is very light across this part of the basin, which will also contribute to the strengthening of the storm.