The current state of the South African Passenger Tyre Industry
Insights into the Domestic Market, Imports and Exports of PV Tyres
The South African retail tyre market is comprised of four local manufacturers who compete for market share with approximate 200 importers, mainly from China and Europe. Approximately half of the imports are large quantities of standard tyres while the remainder of imports is specialty tyres, such as racing tyres, mining, agriculture, etc. The four domestic manufacturers, which include Continental, Bridgestone, Goodyear and Sumitomo Rubber (Dunlop/Falken/Sumitomo) are active on a national level and their factories are located in Port Elizabeth, Brits, Uitenhage and Ladysmith, respectively.
"The domestic PV tyre manufacturers will continue to face stiff competition from international importers for market share in the PV tyre industry," said Craig Parker, Research Director at Frost & Sullivan Africa. "The stiffest competition comes from the cheaper, lower-quality Chinese competitors that are saturating the market, growing at a CAGR of 3.1%, while other importers are forecast to only grow at a CAGR of 1.0%."
The importers of PV tyres, as well as the domestic manufacturers, primarily target the local original equipment manufacturers (OEMs) that produce South African-assembled vehicles for the domestic market and exports. The replacement market is the other target market, driven by the increasing sale of used vehicles, generally outweighing new vehicle sales by a ratio of 3:1. Because of the Coronavirus pandemic, imports of PV tyres into the country dropped by 800,000 units in 2020 compared to the previous year. While European imports decreased by 375,000 units, imports from China only dropped by 105,000 units.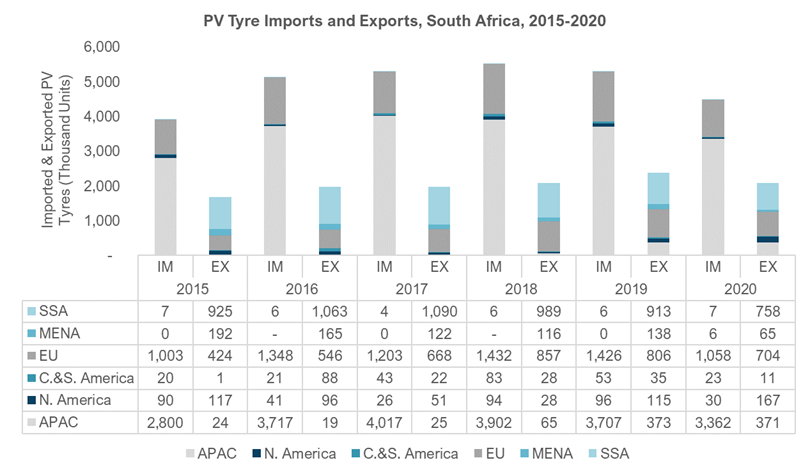 Exports underwent a slightly different event. In response to the drop in imports, domestic production of PV tyres was increased to meet the local demand which witnessed a slight increase (CAGR = 1.3%), as well as meet the export demands. Europe and sub-Saharan Africa experienced the largest decrease in exports, while North America experienced an increase of 52,000 units. The increase in domestic demand between 2019 to 2020 is attributed to the growing number of the live vehicle population in the country, growing at a CAGR of 11.5% to an estimated size of 7,541,175 in 2020.
"We expect exports of locally produced PV tyres to shrink over the coming decade as the domestic industry struggles to compete with the international competitors, especially with importers from China,"  Parker continued. "However, South Africa will remain an important hub for the regional tyre industry in the future, as the existing infrastructure enables easy imports and further redistribution to our southern African neighbours and beyond."