'Investment in sport can be a catalyst for transformation': Commonwealth Secretary-General launches policy paper on first global sport impact report
The Commonwealth Secretariat, in partnership with UNESCO, has previewed a global report containing new data on the contribution of sport to sustainable development, with key metrics on worldwide activity levels, provision of physical activity in schools, gender and investment in sporting provision.
Revealed at the Seventh International Conference of Ministers and Senior Officials Responsible for Physical Education and Sport (MINEPS VII) in Baku, Azerbaijan today (Tuesday 27th June), the landmark piece of research is the first baseline report to collate available global data to build an international picture of how sport is contributing to the achievement of the UN Sustainable Development Goals.
An overview of the Global Sport and Sustainable Development Impact report has been published in a policy paper here. Data collected on each country has been built into an interactive data dashboard available here, with the full report set to follow later this year.
Speaking at the conference, the Commonwealth Secretary-General, Rt Hon Patricia Scotland KC, said: "I am proud that the Commonwealth Secretariat has led the way in coordinating this report, which offers a clear baseline we can all use to measure how sport contributes to specific policy outcomes: including health, education, gender equality, social inclusion, and economic and sustainable development.
"This evidence base provides a transparent accountability framework, which public and private investors and policy makers can access, to show that every dollar spent on sport provides a positive, tangible return which makes a difference in the world. And to show how sport contributes to happier, healthier societies; boosts productivity, trade and economic growth; breaks down the barriers between us, builds kinship, inclusivity and peace; and provides opportunities."
She added: "Investment is sport can be a catalyst for transformation at all levels – and the Commonwealth, in partnership with UNESCO, is working to translate the laudable intentions we all share into measurable action not only in the Commonwealth Family, but the world over."
The highlights of the report were included in a policy brief presented at a conference session on using data to drive sporting investment. The report figures highlight the disparity between activity levels of populations in high and low-income countries. Levels of inactivity are twice as high in high-income countries compared to low-income countries which essentially means activity levels decrease with a high or increasing gross national product.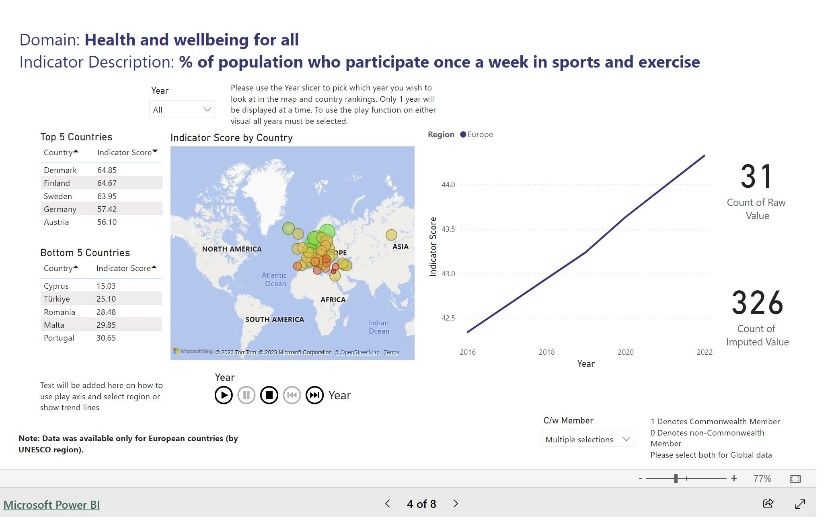 The data shows that for adults, North America (36.2%), and the Arab states (35.5%) (Iraq, Saudia Arabia and Kuwait) have the highest levels of insufficiently active people. While the top three sufficiently active countries from a Commonwealth perspective in Africa are Uganda, Mozambique and Lesotho.
Furthermore, the data shows that most countries fail to meet the minimum minutes of physical activity in schools, 120 minutes in primary schools and 180 minutes in secondary schools, each week.). The report said 77% of primary schools and 79% of secondary school are missing the target.
The report reveals how much data still needs to be collected globally to fully understand how sport is contributing to the achievement sustainable development outcomes. For example, looking at the percentage of females who participate once a week in sports and exercise, the only data came from Africa. This represents less than five percent of the world. However, it found that while participation appears high, once you omit netball, participation levels drop drastically.
Globally, just over a third (34.99%) of national sport policies intentionally align with the UN Sustainable Development Goals (SDGs), suggesting more can be done to use sport to speed-up the realisation of the 2030 Agenda.
The report builds on the delivery of a global multi-stakeholder initiative from MINEPS VI titled the Kazan Action Plan that was adopted in 2017. Specifically Action 2, which was to: 'develop common indicators for measuring the contribution of physical education, physical activity and sport to prioritised SDGs and targets.'
This action, set by UNESCO and its member states and outlined in part by the Kazan Action Plan, is the one on which the Commonwealth Secretariat was asked to take the lead, working alongside other institutions, governments, experts and practitioners.
The full report will be made available to countries to act as a baseline allowing them to access their sporting provision.